Services We Offer
Being a locally owned and operated maintenance Japanese Auto Clinic, we take great pride in providing our customers with top-quality products and excellent service. Japanese Auto Clinic carries and uses the top brand names in parts and fluids to keep your car running smoothly. In addition, our technicians utilize state-of-the-art diagnostic equipment and will educate you on your automobiles' needs so that your vehicle will run perfectly for years.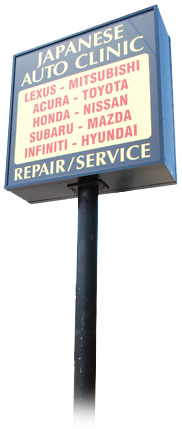 Complete Major & Minor Auto Repair Services:
- Alternator
- Radiators
- Starters
- Water Pumps
- Engine Work
- Oil Changes
- Fuel Pumps
-Factory Scheduled Maintenance
- Belts & Hoses
- Heating & A/C
- Minor Electrical
- Engine Rebuilds
- Tune Ups
- Brake Work
- Tire Rotation
- Transmissions
- Exhaust Work
Factory Scheduled Maintenance
We do all kinds of factory recommended maintenance based on factory recommended intervals/ items. All types of Parts/ Fluid we use are OEM Factory certified.
Timing Belt
Timing Belt replacement is one of the most important maintenance. Generally, most of Asian-imported vehicles have been equipped with an 'INTERFERENCE Engine' which MOST LIKELY has the possibility of 'Valve-to-piston' damage to occur in the event of a Timing Belt failure. We proudly use OEM Timing Belts only to keep your timing belt in outstanding condition until the next due.
Tune up
We service 'Complete (Major) Tune up', and 'Minor Tune up'. Complete Tune up includes replacing Spark Plugs, Ignition wires (if needed), Distributor Cap/ Rotor (if equipped), Air/ Fuel Filter, Check/ Reset Ignition Timing, Clean Throttle Body/ Fuel Injection systems. Minor Tune up includes replacing Spark Plugs, Check/ Reset Ignition Timing. We use NGK or Denso Spark Plugs and Ignition wires, which perfectly fit on most Asian imported vehicles, and are used as Factory OEM.
Engine Replace/ Rebuild
We replace/ rebuild engines. We have Low-mileage (Under 40K) engines that are directly imported from Japan/ Korea. The engines are tested and certified in their origins, and are tested again in the United States after imported. If an imported engine is not available (Toyota 3VZE, 22R/E, etc), we also have Zero-mileage rebuilt-engines that are strong and reliable. An engine swap procedure usually takes about 2-3days depending on the parts availability.
Clutch
Clutch replacements and/ or clutch related repairs (hydraulics, mechanicals, etc.) are performed quickly and accurately. Customers can pick up their vehicles on the same day if the vehicles are dropped in morning.
Check Eng. Light (Service Eng. Soon)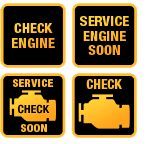 All modern vehicles have a computer or ECM (Electronic Control Module) that controls the engine operation. The main purpose of this is to keep the engine running at top efficiency with the lowest possible emissions. With today's strictest emission regulations it's not very easy to achieve - the engine needs to be constantly and precisely adjusted according to various conditions such as speed, load, engine temperature, gasoline quality, ambient air temperature, road conditions, etc.
How it basically works:
There is a number of sensors that provide the ECM with all necessary inputs such as the engine temperature, ambient temperature, vehicle speed, load, etc. According to these inputs, the ECM makes initial adjustments adding or subtracting fuel, advancing or retarding the ignition timing, increasing or decreasing idle speed, etc.
There is a primary (upstream) oxygen sensor installed in the exhaust before catalytic converter that monitors the quality of combustion in the cylinders. Based on the feedback from this oxygen sensor the ECM makes fine adjustment to the air-fuel mixture to further reduce emissions.
There is another, secondary (downstream) oxygen sensor installed after catalytic converter in the exhaust that monitors catalytic converter's efficiency. Besides, there are few additional emission control related vehicle systems. For example, there is an Evaporative system (EVAP), designed to prevent gasoline vapors from the gas tank from being released into the atmosphere. It also contains number of sensors and actuators controlled by the ECM.
The ECM has self-diagnostic capability and constantly tests operation of sensors and other components. When any of the sensor signals is missing or out of normal range, the ECM sets a fault and illuminates the "Check Engine" or "Service Engine Soon" light also called MIL (Malfunction Indication Light) storing the corresponding Diagnostic Trouble Code (DTC) in the ECM memory. The same will happen if a mechanical component of controlled system fails. For example, if the EGR valve fails, this will also cause the "check engine" light to come on. Even a loose gas cap will cause the "check engine" to come on. The stored trouble code can be retrieved with the special scan tool by the technician. The code itself does not tell exactly what part to replace, it only gives a direction where to look for - the technician has to perform certain tests specific for each code to find the exact cause of the problem.
We scan the ECM to find Trouble codes that are stored in the ECM with Computerized Scanner. Once we find out the components (and/ or sensors), we perform the 'pin-point' accurate diagnostic to find out the main problem. We are Engine Performance certified Technicians. Leave it to the 'Pros', we will take care of it!